On November 23, Buju revealed that Ruger, a colleague, had allegedly been purchasing Apple Music streams.
Ruger boasted about his number-one position on Apple Music, which prompted this snitching. You might remember that Ruger made fun of Wizkid and Mavin on Twitter after his song "Asiwaju" reached the top of the charts.
Buju, who yesterday dragged Ruger, disclosed that Ruger purchased streams to make it appear as though his song had secured the top spot. In retaliation, Ruger demanded that Buju listen to five of his hit songs, intensifying their Twitter battle.
Netizens responded to the fake streams by revealing that they are aware that Nigerian musicians are purchasing streams to oppress their peers.
Asake has been purchasing streams specifically to repress Wizkid, according to a member of Wizkid FC. He referred to him as a con artist for using fake streams to get all of his No. 1 songs on Apple Music.
Only criticizing Asake and Ruger, according to another user named Buchi, was unfair. He revealed that many artists in the industry are using streaming farms, but it is unfortunate Asake and Ruger got caught.
See comments below: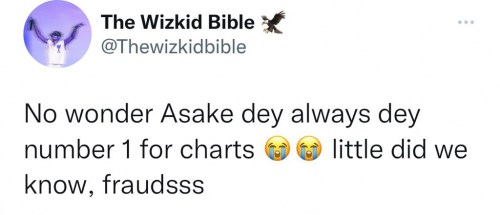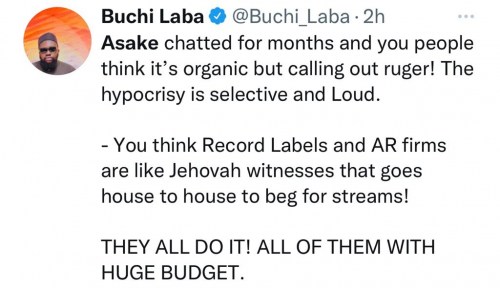 Click Here To Comment