Kess, a contestant on Big Brother Naija season 7, is having a sad day as word spreads online that he may have lost his son.
His team recently issued an official statement that made this information public.
According to the statement, the unfortunate incident happened three days into the show, following his wife's miscarriage.
The statement reads,
The past weeks have been the most trying for the family of Adjepkovu. We are saddened by the loss of Kess's son through miscarriage, but we are comforted by the well wishes and kind thoughts of friends around us.
Special regards to the wife for being strong and courageous through the whole experience.
The family is devastated at the deepest level by the loss, but we want to reiterate that the wife is in perfect condition as it happened weeks ago. The family collectively decided now is the right time to announce the news.
Kess is a strong character and would need our prayers right now as he continues his quest in the Big Brother show. The family asks for respectful consideration during this private time. Thank you.
See the official statement below.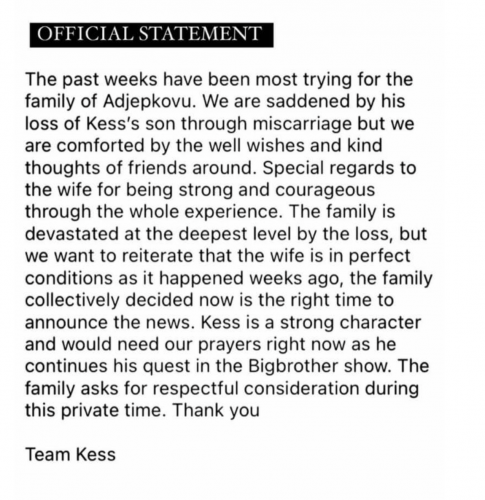 Click Here To Comment