A woman described how a young woman who had recently relocated overseas ended up in jail after assisting her ex-boyfriend in picking up a package.
On Twitter, a woman named PuffyPearl disclosed that she picked up the gift at her ex-lover's but that the contents of the parcel were drugs, which she had no idea about.
Unfortunately, the claimed lady was apprehended with the package and is now in prison, and all attempts to contact her ex-boyfriend have failed.
Peart described the situation as follows:
"This girl just relocated. Her ex, finding out she's now in his city, came begging to see her. He proposed that they sit somewhere and talk. She asked him to help him get topped up in a store nearby and help collect a parcel there for him. The parcel was drugs, and she's now in jail.
He set her up with 💔. He used her as a picker and left her there. She doesn't know where he stays, his friends or any information about him abroad except for the number he called that day, which is no longer available. I feel so bad, man! "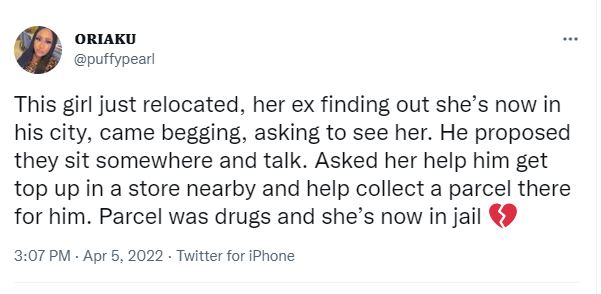 Click Here To Comment