Two lesbian pastors, Twanna Gause and her partner Vanessa Brown have shocked many after the couple wedded in the New Vision Full Gospel Baptist Church in East Orange, New Jersey.
The couple who were excited about their union irrespective of people's thoughts, led by Bishops Levi Richards and Eugene Gathers, both of the Fellowship of Affirming Ministries.
The bride, Pastor Twanna Gause, dressed in an off-white wedding gown and veil, stepped out of a limousine to meet her partner, Pastor Vanessa Brown, who stood waiting at the altar in a cream-colored long coat. The wedding reception at il Tulipano in Cedar Grove, N.J., was an elegant affair.
However, the bride's father, Rev. Sam Gause Sr., a Pentecostal minister who lives in Atlanta, was strongly against the gay union.
"My father would not come here because he does not believe in same-sex marriage.
"He told me the devil tricked me into this, and that if we had been married in biblical times, we would have been stoned to death," the new bride said.
When contacted by the New York Times, her father condemned the union describing homosexuality as a mental disorder. His words:
"Twanna, very well knows I'm not for that kind of lifestyle, I believe that God wanted us to procreate through a natural process, and by no means am I happy about this because it is unnatural,  I look at homosexuality as a mental disorder.
"If I start to tell you that I am an elephant, and start to behave as an elephant, that's my choice, I choose to become an elephant. But you would probably choose to call a mental institution."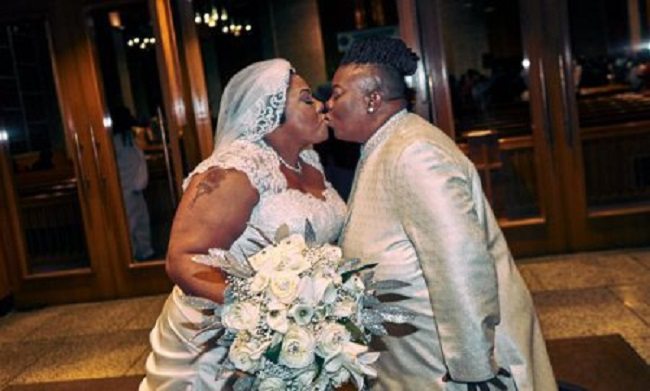 He also expressed disappointment on his ex-wife, Mary Ellen Brown for attending the wedding. He said:
"I will talk to her at some point, I suppose, if she calls me, but I will not initiate the call, I do have some words for her that she needs to hear. I'm not going to condemn her or judge her because I don't have that authority, but judgment has already been established by God."
His ex-wife did not mince words when talking about her ex-husband's refusal to attend. Mary said:
"He has no right to judge them, I tried to get him to come here but it was a losing battle. He asked me why I would even bother showing up, and I said to him, all you need to remember is that Twanna is my daughter, and I love her, and I have her back no matter what she does."
While walking the bride down the aisle in her father's stead, Bishop Levi Richards said, "She's our spiritual daughter." When asked about Reverend Gause's absence at his daughter's wedding, he simply said: "God has a way of honoring us when others won't."
Click Here To Comment