A video has emerged showing the moment students beat and set Deborah Samuel ablaze in Sokoto for blasphemy.
Naijacrawl reports that a 200-level student of Home Economics at Shehu Shagari College of Education in Sokoto State, northern Nigeria, has been lynched by fellow students over alleged blasphemy against Prophet Muhammad on Thursday, May 12, 2022.
This online news platform understands that the Christian student, identified as Deborah Samuel, allegedly shared the offensive message in a school WhatsApp group. It was learned that the blasphemous message drew the ire of the students, who overpowered school security, beat her to death, and set her body on fire.
She reportedly said before her death; "Holy Ghost Fire, nothing would happen to me. Is it by force that you guys would always be sending this religious stuff in the group? The group wasn't created for that, but rather as a notice for when there's a test, assignment, exams, etc., not these nonsense religious posts."
In a swift reaction, the school was later shut down by the management to avoid an escalation of the situation.
"Following today's early morning student rampage in the college, the College Management has resolved to close down the college indefinitely with immediate effect."
"Consequently, all students are hereby directed to vacate the college campus immediately," the school said in a statement.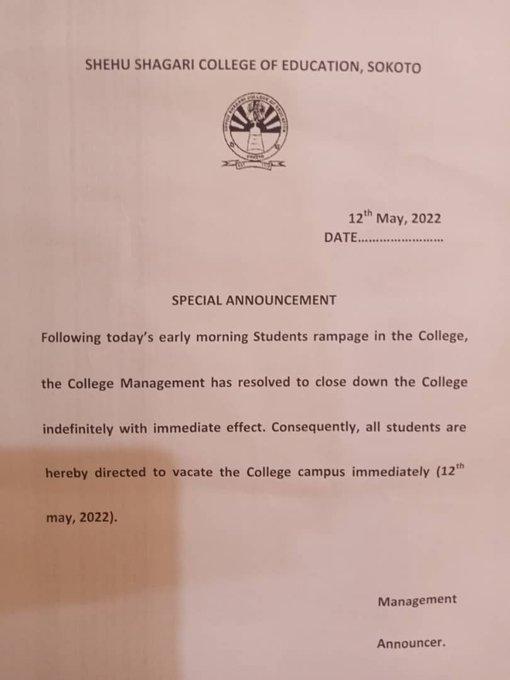 "
The Sultanate Council has learnt with dismay the unfortunate happenings at the Shehu Shagari College of Education, (SSCOE) Sokoto that led to the loss of life of a female student of the Institution.
"The Sultanate Council condemned the incident in its totality and has urged the security agencies to bring perpetrators of the unjustifiable incident to justice."
"The Sultanate Council has urged all to remain calm and ensure peaceful co-existence among all people of the state and nation," the statement said.
What the police said about Deborah Samuel's murder:
In a statement signed by the spokesperson of the Sokoto State Police Command, Sanusi Abubakar, the police said they have arrested two people in connection with the killing, adding that the police mobilised to the scene of the incident upon receiving the information led by the Deputy Commissioner of Police in charge of operation and other commanders to bring the situation under control.
According to Mr. Abubakar, the school has been shut down and additional police personnel deployed to the premises. He also noted that the Commissioner of Police, Sokoto State Command, Kamaldeen Kola Okunlola, has appealed to members of the public to go about their lawful activities and not panic as the situation is under control.
Click Here To Comment