On July 18th, 2022, Nigerian-British Producer and Engineer, Jae5, reveals the amount he charges for a beat and song production on Twitter today.
The Dimension crooner and Burna Boy's "Bank On It" producer said his beat cost £25,000, which will be over 18 million Naira.
According to Jae5, his charges are high because he delivers quality production. And whoever reproduces his beats will definitely hear from his lawyer.
In his words, "It's £25,000 for a beat from me. Do not book a session with me knowing fully well you can't afford the price. It's a disrespect!
And if you try to reproduce my thing, my lawyer will sue you for your little £10 earnings. Behave yourself. Only people who pay under 10 are NSG AND THAT BLOOD. "
Nigerians on Twitter reacted after reading Jae5's tweet. They instantly remembered Asake, who they claimed had recycled a beat more than three times.
These sets of Twitteratis said Jae5's charge is the reason why Asake used a beat to create five different songs.
Some swallowed their pride to beg him to forgive them for the call out.
They also gave Asake the permission to record an EP or album if possible with Jae5's beat.
See tweets below;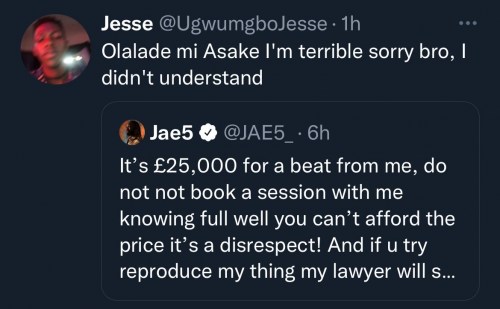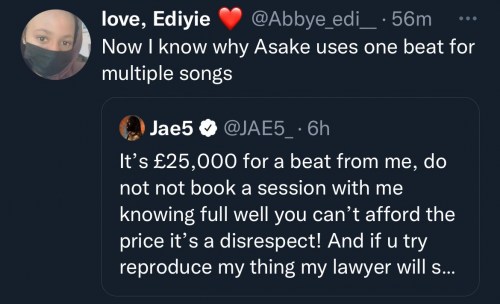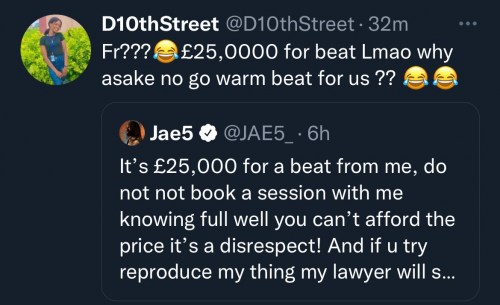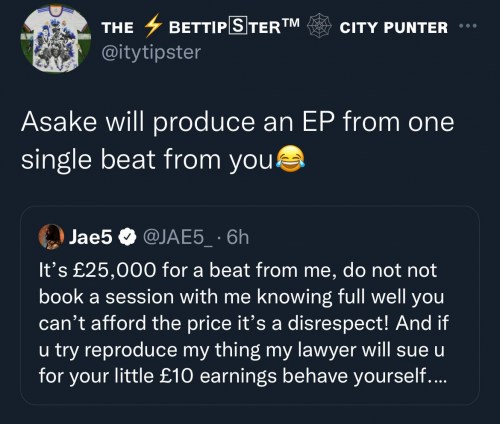 Click Here To Comment