Frank Edwards, a gospel singer, has reacted to the death of Sister Osinachi Nwachukwu, a colleague.
On Friday, April 8, the Ekwueme singer passed away in an Abuja hospital where she had been on life support for the last two months. The nature of her illness, however, remained unknown.
According to Frank's message, Osinachi's shining light was turned off by an "irrational human person." He wrote
"

So that unreasonable human being finally put off a shining light. I won't say much now. I'll let the former NDC director (AUNTY Joy), who did everything possible to stop this from happening, talk first. It still happened. We tried to stop this. "
In the wake of reports that the 42-year-old singer died as a consequence of domestic abuse, Frank Edwards's reaction is understandable.
A friend of the dead, only identified as Gold Martins, took to Facebook to claim that the singer was in an abusive marriage.
"All I prayed for last night was for God to touch the hearts of those around me," she said. Allow them to speak up. I knew what that woman was going through at the hands of her husband, and I notified someone about it. "I would have left this marriage if it weren't for the church and what people would think," she says.
When that man called her in their company, he called her names like "steeewpid" and "fuuul*ish."
If Minister Osinachi could tell a total stranger her story, how much more her church? Do you want me to believe that her church and pastor didn't know what this woman was passing through?
Can they come out and swear that they are ignorant of the fact that she was living with her enemy?
What did they do to help her?
The church has failed us😭😭😭😭. The church has failed the society Religion has failed the society. Can we all start practicing humanity? Can we? Listen! If you know you have a calling here on earth, if you know you are here on a mission, please be mindful of who you are ending up with in marriage." He wrote in part.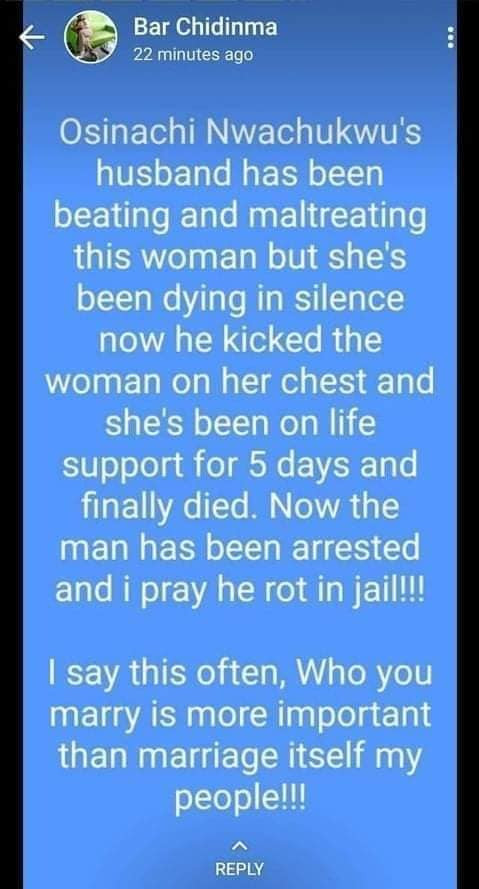 Click Here To Comment