Stan Nze and Jessica Obasi, both Nollywood stars, have posted videos of their romantic proposal months after their wedding.
The couple, who were married in a star-studded event on September 11, 2021, decided to share moments from their romantic proposal with their fans.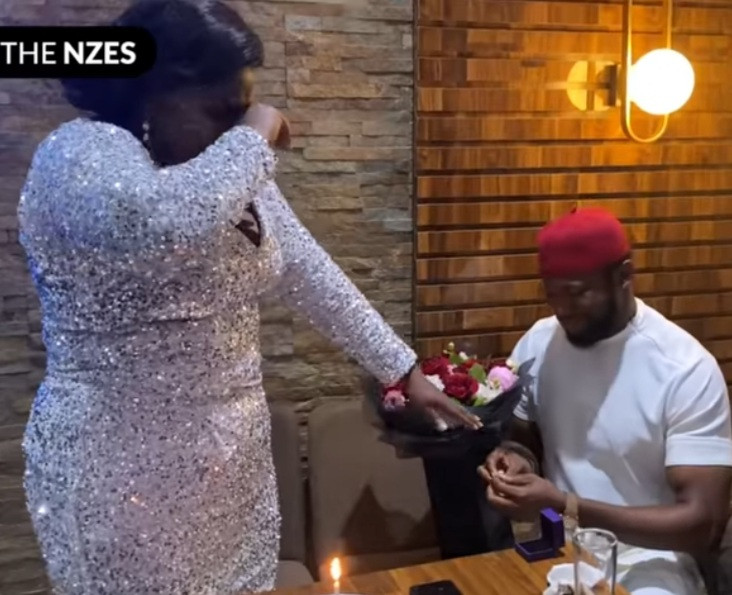 Stan Nze stated that he planned to take his wife, Jessica Obasi, on a trip abroad and propose to her there, but she had to cancel the trip due to a film shoot.
To make up for having postponed the vacation, Jessica said she planned a series of surprises for Stan's birthday, which was May 15, three days after hers.
On the eve of his birthday, she prepared a praise night with his close friends, then checked him into a hotel.
After that, she served him an English breakfast tray in their hotel room. She organized a surprise all-white supper for him in the evening and invited their close friends.
Stan, unbeknownst to her, was aware of the surprise and planned to propose to her at his surprise party. Stan proposed to her towards the end of the surprise meal while presenting a vote of thanks.
Stan put the ring on his woman's finger after he got a "yes" after popping the question. The lovebirds, who were overwhelmed with emotions, first cried tears of pleasure till they were pleased, then Stan put the ring on her finger after he got a "yes".
Click Here To Comment